---
Subscribing to "African Future"
"African Future" principally is directed towards the professional community dedicated to Africa's development and to provide humanitarian aid to Africans. We invite development cooperation agencies and institutions, and NGOs, to contact the media house to ask for a free trial subscription to get to know the monthly publication.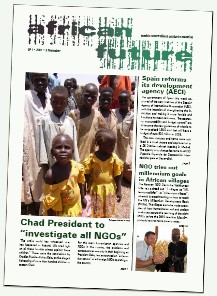 Agencies, NGOs and institutions
Contact the afrol News SL media house to ask for a free trial subscription. Regarding rates for a subscription, these depend on the quantity of staff attached to the institution (or how many work with Africa-related issues). We will therefore need information about the size of your organisation before being able to make you an offer. Please do write an e-mail to afrol News SL to request a free trial or more information about subscription rates. Or, find more contact information below.
Individuals
Since November 2008, subscriptions are also available to individuals interested in African development issues. Note that this does not include staff of cooperation agencies, NGOs or related institutions, who have to apply as an institution. For individuals, economic rates exist, and there are special student rates. You may at any time ask for a free issue of the latest edition of the magazine by writing an e-mail request to afrol News SL.
Rates for individual subscribers are as follow:
- One issue: euro 4.50
- One year subscription: euro 24.50
- Students get a 25% discount. Does only apply to e-mail addresses attached to an educational institution.
When asking for a one-year subscription or a single issue, please indicate whether you want to receive the magazine by e-mail (which may be a risk if you have only limited space in your e-mail account), or if you prefer to receive a unique link where you can download each magazine. In the e-mail order, please also include your name, work place, address and e-mail address.
Payment
Subscription payments for individuals (and organisations if so desired) are done electronically online at this site. Institutions may also pay via invoice. An electronic payment service is about to be installed on this website in mid-November, in time for you to enjoy your free November trial edition and to decide for an "African Future" subscription.
Contact
afrol News SL
Avenida Primero de Mayo 48, 3dcha
E - 35002 Las Palmas de GC, Islas Canarias, Spain
Telephone: +34-928.38.35.58
e-mail: mail@afrol.com
More information on how to get in touch with the media house afrol News SL can be found on the contact page of afrol News SL.
Providing press releases and photos
To provide press releases and photos that may be evaluated for publication in the magazine "African Future", please do send an e-mail to the newsdesk of afrol News SL. More information is found on this page.
Click here to the content of the latest issue of "African Future".

---
© afrol News / African Future