---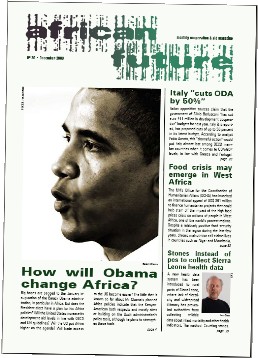 "African Future" is a monthly pdf magazine published by the media house afrol News SL since November 2007. It is primarily directed towards the growing community of professionals dedicated to the development of Africa and humanitarian work in and for Africa. "African Future" is a product specialiased to meet the information needs of this community, published at the beginning of every month, featuring the latest news and analises around the issues of development cooperation, emergency aid, alerts and new research in addition to inform about new publications related to the development of Africa.
There exists a parallel edition in Spanish language, "Futuro Africano", which is distributed to all the major aid agencies, NGOs, UN offices and other institutions working with Africa in Spain, Portugal and Latin America.
Subscriptions and contact
On this page, you will find information about how to subscribe to the weekly magazine "African Future". Also, you will find contact details of the media house afrol News SL.
To request a free copy of the latest issue of the pdf magazine, please send an e-mail to afrol News SL. You can also download a free sample of the first-ever edition here. Note that, since 2007, the magazine has turned monthly and has an average of 40 pages each issue.
Providing content and advertising
We hereby invite copperation agencies, NGOs and institutions working with African development to provide us with press releases and images that will be considered for publication in the monthly "African Future". The magazine also provides a limited space for the publication of relevant tenders, announcements, employment offers, publications and commercial products. Please find more information here.
Please find the content of the latest issue of African Future here.

---
© afrol News / African Future